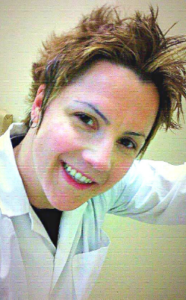 Dr. Kimberly Wiersielis is a Postdoctoral Associate in the Department of Animal Sciences at the School of Environmental and Biological Sciences at Rutgers University. As a scientist, Wiersielis gains great satisfaction from the liberty to conduct independent research that serves their passion for mentoring bright students who wish to pursue a career in the sciences. In 2023, Wiersielis was awarded a K99/R00 grant from the National Institute of Environmental Health Science, a component of the National Institutes of Health, which will include both mentored and independent research.
Wiersielis' inspiration derives in part from their mentor Dr. Troy Roepke, Associate Professor and Associate Dean of Diversity, Equity, and Inclusion for the School of Environmental and Biological Sciences at Rutgers. According to Roepke, "Dr. Wiersielis' research is on the cutting edge of neurotoxicology by combining classic and innovative neuroscience techniques with exposure to environmentally and emerging endocrine disrupting compounds". Wiersielis' goal for achieving a K99/R00 grant was a key step in fulfilling a long-term goal of securing a faculty position at an academic institution and developing an independent research program in neurotoxicology.
Wiersielis' experience with writing grants began in 2019 when invited to attend the Grant Training Center: Professional Grant Development Workshop at Rutgers University. This initial interest then led Wiersielis to the NRMN-CAN grant writing group run in part by Dr. Lauren Aleksunes, the Workforce Development Core Lead for the NJ Alliance for Clinical and Translational Sciences (NJ ACTS). Wiersielis states, "The grant writing process can be overwhelming, but the group taught me to think of the grant writing process in several smaller steps to make the process manageable starting with my specific aims page. Lauren was an essential support for me during this experience. She willingly took the time to read my grant and provide input both in and outside of the grant writing group. I would not have received the K99/R00 award without her mentorship. While reflecting, I think the NRMN was a vital asset for me to obtain the K99/R00 award and would recommend it to anyone writing a grant with the same goal! Everyone was supportive and driven to help each other succeed."
After successful participation in the NRMN-CAN Grant Writing Group, our team was interested in learning more about Dr. Wiersielis' future plans with grant writing and they state, "I plan on applying to future grant funding when my lab is established such as a R01."
Through conversation with Dr. Wiersielis about this recent accomplishment, we asked, if someone called you and asked, "Why should I become involved with NRMN?" Wiersielis' response – I would say that this group is extremely helpful in obtaining future funding and I would highly recommend joining the grant writing group. Wiersielis adds, "I would like to sincerely thank Lauren and all my mentors for their assistance in obtaining this award. I wouldn't have been able to do it without them!!
The NRMN-CAN Grant Writing Group is supported by NJ ACTS, the School of Graduate Studies, Ernest Mario School of Pharmacy, NIEHS Center for Environmental Exposures and Disease, and the Office of Research and Economic Development. For more information about NRMN-CAN, email aleksunes@eohsi.rutgers.edu or suziec@pharmacy.rutgers.edu. Prepared by Yasheca Ebanks, MS, Project Manager, NJ Alliance for Clinical and Translational Sciences, Workforce Development Core