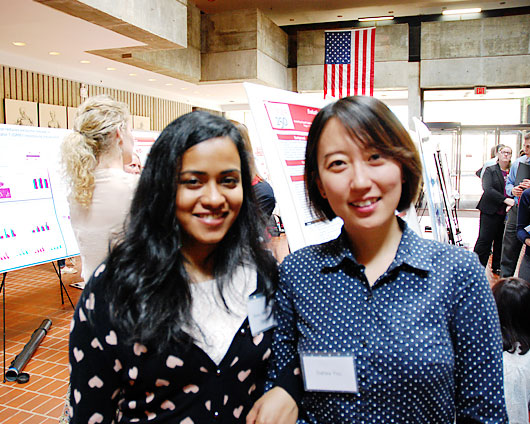 There is a growing interest among clinicians to gain critical thinking and research skills to advance their careers in academia, government and industry.  The Joint Graduate Program in Toxicology (JGPT) has designed a PharmD/PhD curriculum that begins in the third professional year (P3) of the PharmD program at the Ernest Mario School of Pharmacy.
How does the Pharm.D./Ph.D. Program work?
During the P3 and P4 years, students are full-time PharmD students and part-time PhD students.
In the P3 year, students pursue a research rotation and take PhD levels classes as electives.
Research will be conducted in a JGPT laboratory or as part of a toxicology internship at a pharmaceutical company during the summer following the P3 year.
For the P4 year, students have specialized Advanced Pharmacy Practice Experiences (APPEs) that allow them to be near campus in the Fall (APPE Cycles 4-6) or Spring (APPE Cycles 7-9) semester.  This will include the off cycle during which time PhD research credits can be earned. One APPE in Clinical Toxicology will be conducted with a registered pharmacist, Lauren Aleksunes, PharmD, PhD.
During the P3 and P4 years, PharmD/PhD students receive additional scholarship support.
Upon graduation with the PharmD degree, students will become full-time PhD students in the Joint Graduate Program in Toxicology and receive stipend, tuition, and health care benefits.
Typically, students loans incurred during the PharmD program can be deferred while a full-time PhD student.
Tips for applying to the PharmD/PhD Program:
In addition to this dual degree program, the JGPT has alternate tracks for students wishing to complete the Pharm.D. prior to entering the Ph.D. program or who receive their Pharm.D. degree from a different institution.
Save