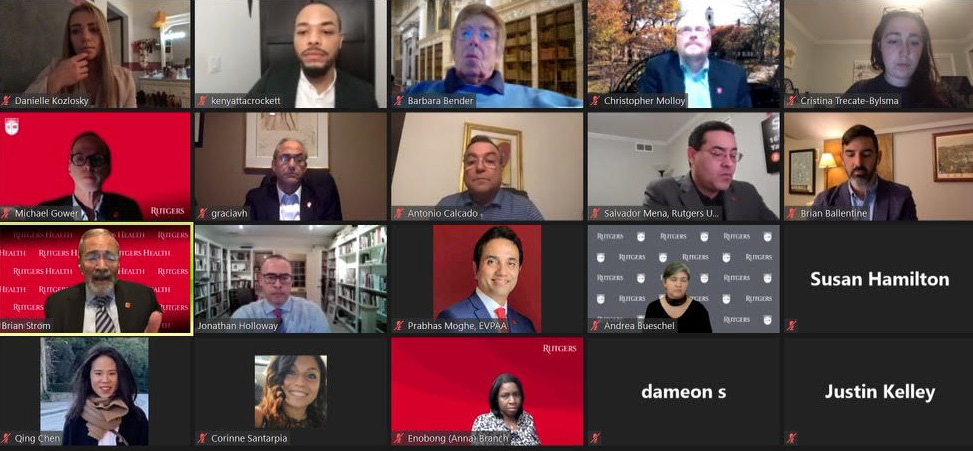 On November 9, 2020, the Rutgers Graduate Student Association (GSA) hosted a virtual Town Hall Meeting with President Holloway, his cabinet, and four Rutgers Chancellors: Chancellor Strom, Senior Vice Chancellor Gracias, Chancellor Molloy, and Vice Chancellor Mena. Danielle Kozlosky, a JGPT PhD student and current Secretary of GSA, led the event.
The Town Hall began with a brief introduction of the panelists where they introduced themselves and their position with regards to their role at Rutgers. This was followed up by a moderated Q&A session led by Danielle. The goal of the Town Hall was to advocate for ALL of Rutgers graduate and professional students and receive answers to questions about COVID-related matters.
As this meeting was centered around graduate and professional students, their involvement was essential, so all graduate and professional students across the University were sent a form where they could generate questions to be asked of the panelists. The questions were posed anonymously and were directed to particular panelists.
The questions received involved such items as:
Degree timeline and funding extensions for all graduate students in the university due to COVID-related issues and how these may change if the university faces another shutdown as NJ COVID-positive cases are rising;
Long term effects of COVID on the Rutgers budget and the current state of Rutgers University finances;
Why Rutgers is hiring new high-level administrator jobs while the university is under a "hiring freeze" and while other positions are being laid off;
Working on fulfilling President Holloway's aim of strengthening Rutgers academics;
The University's master facility plan and how COVID-19 has impacted it;
Progress of a "COVID-proofing" plan of Rutgers facilities to ensure students, faculty and staff come back to a safe environment;
How the current strategic plan in place may change in coming years with regards to the impact on graduate students and creating the mission of One Rutgers;
Progress with the RWJMS/NJMS merger.
The session lasted a little over an hour with many questions still to be answered via email. A recording of the session will be available for anyone to view in the near future. Hopefully the remainder of questions will be answered to provide further information to the Rutgers University graduate student body.